April 5th, 2016 by yohan abeynaike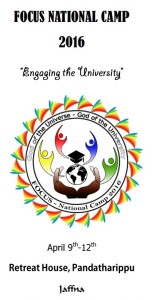 The annual National Student Conference of FOCUS will be held from 9-11 April at Retreat House, Pandatharippu, Jaffna.
University students (state and private) from around the country will gather together as we reflect on the Uniqueness of Christ and the distinct call of God in the university. We will also look at how our faith and the university relate, how we can be incarnational disciples, and how we can communicate our faith to others. We will then explore the practical implications of what we have learnt, reflecting on the specific area that God has called us to and how he calls us as individuals, as fellowships and as a national network. The camp also provides you an opportunity to meet and form friendships with students from diverse backgrounds and promises to be a mutual learning and rewarding experience.
If you wish to join us please contact Paul Bright in Jaffna (0779258008) or Rebecca in Colombo (0755289053) and register for the conference. The total cost for a student is Rs 6,000 but the subsidized rate is Rs 2,500.
Those who wish to sponsor a student for the conference please contact Yohan (0776985250) or Sanjayan (0777492083).
Please keep us in your prayers!
Entry Filed under: Announcements