Vision & Mission
Vision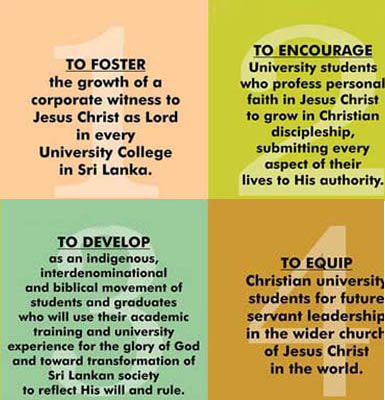 To foster the growth of a corporate student witness to Jesus Christ in every university & university college in Sri Lanka.
To encourage university students who profess personal faith in Jesus Christ to grow in Christian Discipleship, submitting every aspect of their lives to his authority.
To develop an indigenous, inter-denominational and biblical movement of students who as graduates will use their academic training and university experience for the glory of God and towards the transformation of Sri Lankan society to reflect His will and rule.
To equip Christian university students for future servant leadership in the wider church of Jesus Christ in the world.
Mission
We are exclusively a university student movement. Students are the primary witnesses in the university to their fellow students.
We are also distinctive in our understanding of mission
Mission is the triune God reaching out in love to His creation, reconciling all people and all dimensions(social, economic, political, cultural etc.) of life to Himself.
We believe that Christian mission is to link our lives with God's mission. This involves both proclaiming the Good News and living out in public commitment to truth, justice and integrity and must proceed from a loving community in which social barriers are being broken down by the risen Christ.
Therefore we help students to share the gospel in the university, to live out the gospel in obedience to all that Scripture teaches and to develop a Christian approach to their academic studies.