August 4th, 2016 by yohan abeynaike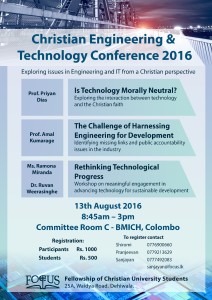 Many of us live our Christian faith in a separate category to our study and work lives. This schizophrenic lifestyle causes lots of issues as we meet with the ethical and moral challenges we face in our day to day lives.
But does God call us to live in this way? Is our study and work life divorced from our Christian faith? Is there a way that we can reflect about our work theologically? FOCUS seeks to answer some of these questions through the Faith&Work Conference series.
The conferences brings together Christian undergraduate students, university academics and practitioners in a particular industry and seeks to help bridge the interaction between our faith and our work. Once the theological foundations to work in that field are established the conference will feature a particular issue within the field and ask whether the revealed Christian faith helps us to think through that issue in a more wholistic manner consistent with the mission of God. Resource persons who are able to reflect both theologically as well as within the discipline have been invited to guide the participants in this task.
The first of these conferences will bring together Christians in the Engineering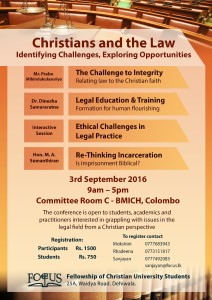 and IT sectors and will be held on 13th August. The sessions are as follows
1. Is Technology Morally Neutral? – Prof. Priyan Dias
2. The Challenge of Harnessing Engineering for Development – Prof. Amal Kumarage
3. Re-thinking Technological Progress – Ms. Ramona Miranda and Dr. Ruvan Weerasinghe
The second conference this year will be for Christians working in the Legal field and will be held on 3rd September.
1. The Challenge to Integrity – Mr. Prabo Mihindukulasuriya
2. Legal Education and Training – Dr. Dinesha Samararatne
3. Ethical Challenges in Legal Practice – Interactive Workshop
4. Re-thinking Incarceration – Hon. M.A. Sumanthiran
Both of these conferences will be held in Committee Room 'C' of the BMICH.
These conferences are part sponsored by Open Doors. Those who wish to contribute to help us cover the additional expenses can do so by sending an email to Yohan.
Entry Filed under: Announcements